LIFE@RELX
Stephen Wong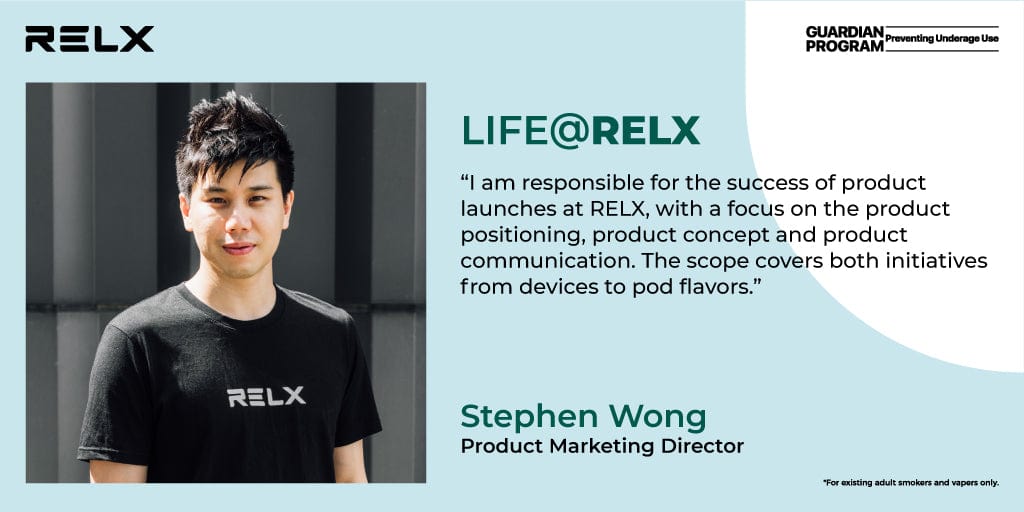 This week, Stephen Wong, RELX's Product Marketing Director, shares his insight and inspiration for what he believes makes RELX an industry leader.
1. How would you explain your job at RELX?
I am responsible for the success of all product launches at RELX, with a focus on the product positioning, product concept and product communication. The scope covers both initiatives from devices to pod flavors.
2. What's your favourite part about being a RELXer?
Working at RELX is a constant adventure; I love the exciting industry landscape and the impact the company is having on the world. At the same time, I most enjoy exploring the unknown with a team of ambitious, results driven and like-minded people, which is an experience I had dreamt of in my entire career.
3. What makes you most effective at work?
The mindset of chasing excellence and constantly challenging my own work is a start. Most of all, I believe our company has in place a process to assign clear R&R to teams working together and an information exchange system to best eliminate blind spots from any single function.
4. If you were a RELX flavour, what would you be and why?
I would consider myself as Forest Gems. Not only will you fall in love with the flavour, but also its diversity in taste will deepen your enjoyment more and more. I believe we don't need to shine all the time because life is about a marathon and not a race.
5. Why did you join RELX?
The founding team was the greatest reason to join. The values of the company describe this group very well; integrity, teamwork, solving hard problems and ownership for me are the ones that I had personally witnessed and experienced from pervious encounters. This was the reason why I believed they could achieve a lot of success in the industry.
6. What are your hobbies outside RELX?
I love outdoor sports, in particular snowboarding, but I also enjoy playing football and swimming.
7. If you were in a Magazine or News article/feature tomorrow, what would the Headline
Title be? 
Work hard, but "choose" harder.
---
Also in Blog and Additional Resources from RELX