LIFE@RELX
Anthony Yang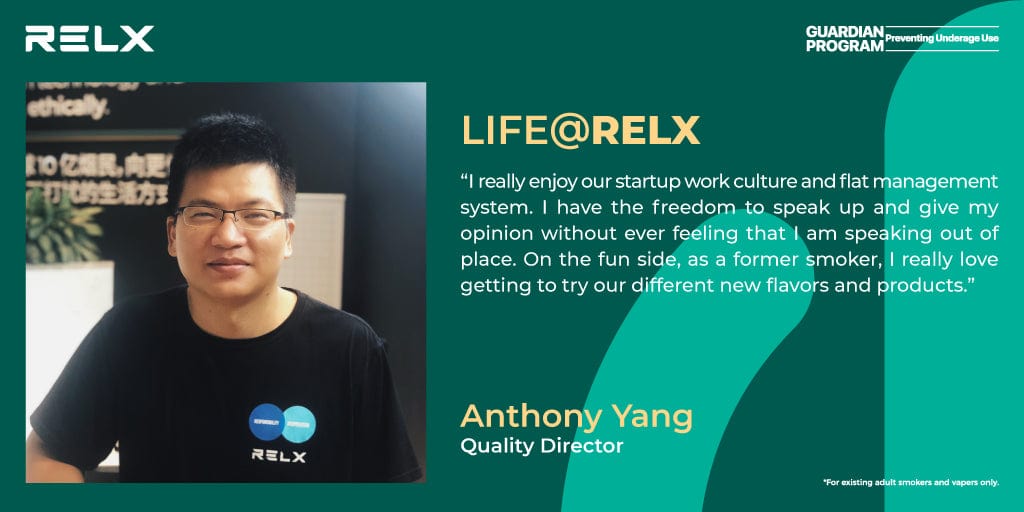 This week, we spoke with one of the key people at RELX that ensures our products are reliable and stable. RELX Quality Director Anthony shares more about his work and experiences at RELX.
1. How would you explain your job in RELX?
I manage RELX's quality management system. We started by building and optimizing the quality management system and company standards from the ground up. My team also oversees quality control and we work on how to improve our products' life cycle. Our team also corrects and major quality issues and improves internal work flows.
2. What's your favourite part of being RELXer?
I really enjoy our startup work culture and flat management system. I have the freedom to speak up and give my opinion without ever feeling that I am speaking out of place. On the fun side, as a former smoker, I really love getting to try our different new flavors and products.
3. What makes you most effective at work?
Setting aggressive goals with my team and working our best to try to achieve them. By setting aggressive targets we succeed even if we do not reach the aggressive goal we originally set.
4. What keeps you going? What inspires/motivates you?
RELX great early success continues to inspire and motivate me. My great colleagues also inspire me every day and make me want to do even better and continue to improve.
5. What gets you through a long day at work?
Try to keep your mind active and sharp by always challenging yourself. I am always looking for new ways to push the boundaries of what is possible or make our work more effective. The days where I challenge myself and going beyond what is expected of me always go by the fastest!
6. If you're a RELX Pod Flavour, what would you be and why?
Watermelon, its sweet but not too sweet.
7. For relevant colleagues: Do you design with your hands or your head?
Your head. Managing our quality requires working with your head to make sure everyone is using their hands the right way.
---
Also in Blog and Additional Resources from RELX